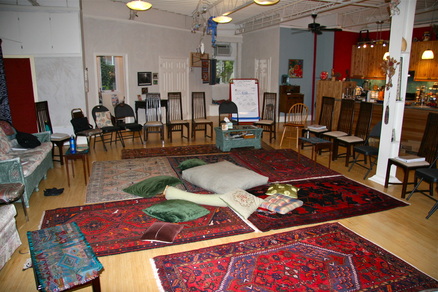 Workshop set-up for thirty


THE SPACE
Red Canoe Studio main space is an intimate and beautiful 1500 sq ft open concept studio with radiant-heat bamboo floors. We have a kitchen and dining room area. The main space serves up to 50 people in a concert setting for music, poetry or lecture, and 30 people in a circle or council style.
Chairs and cushions for 45 people are available.





---

We are
AIR BnB
and
VRBO (from HomeAway)
hosts. We rent Red Canoe Studio's main space plus 3 cozy & spacious bedrooms (sleeps up to 9 people). If you're looking for a place to help with family reunion overflow or to take in Toronto's wonderful cultural & sports events go to the links above.
To rent the main space for a workshop with or without the bedrooms please contact Jerry Brodey directly as
we do not book the space for workshops through Air BnB or VRBO.
---

Everyone who has stayed in our 2500 square foot warehouse conversion home in Toronto's east end has commented on what a rare jewel our home is tucked away in the middle of a city. For sure, when we first discovered it, we knew we had found something truly "unique."

---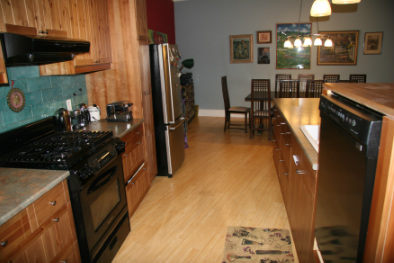 Dining room off of main space
LOCATION
With a fabulous Toronto east end location, TTC is steps away. We are located in the Beach Hill neighbourhood at
57 Devon Rd
(coach house), one block from the Woodbine and Gerrard intersection where there is both a
streetcar
and
bus
, and just one stop light south of the Woodbine subway stop. There is a driveway with room for three cars and ample parking on the street.
---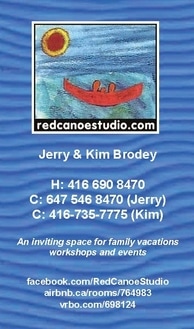 SPACE RENTAL INFORMATION FOR WORKSHOPS
We can provide a large water urn and cups for gatherings or workshops. Also in place we have a 'water for wellness' system with great tasting water.
*Accommodations
for an out of town teacher or workshop guest are available. Wi-fi is available. Our 1500 square feet studio has bamboo floors with radiant floor heat and can comfortably accommodate groups up to 50 people in an audience format using cushions and chairs, 20+ people in a yoga class format, and 30 participants in a circle. We encourage environmental awareness and provide the use of cloth vs paper for hand towels and glass or reusable plastic containers vs disposable containers.
* Accommodations for out of town teacher or workshop participants:1. Master bedroom (with en suite bathroom), queen bed (max 2 people) - $100 per night
2. Second bedroom with a queen bed (max 2 people) - $75 per night
3. Third bedroom has 2 singles ($50 per person/double occupancy) or the twins become a king ($75 per night).AGREEMENTS
All workshop bookings are made on a first-come basis. A non-refundable deposit of 25% of the total is required to hold your space with the balance to be paid on the first day of your event. If you cancel
one month
prior to your event we require 50% of the balance. The rental fee includes your workshop and contact information being listed on our website and Facebook page, if you wish. The rental fee does not include handling your workshop registration. Those renting are responsible for set-up and breakdown of room(s). In calculating your rental time please include the time you'll need for set-up, breakdown along with the socializing time. We ask all our guests to treat our home with respect and leave the place the way you found it. There is absolutely no smoking inside or outside on our property and no pets. If there is any damage to the furniture, artwork or appliances in good faith we expect renters to pay for the repairs.
FEE SCHEDULE
Day rates only - $320 (8 hours minimum) for main space
(includes your set-up, participants arrival, break-down & clean-up)
Evening workshop rates for people renting for 2-days or more pay $40 per hour
Variable cleaning fee - $50 - $100
Evening Concerts or Events - $300 (4 p.m.- 11p.m.)
SOUND SYSTEM AVAILABLE:
$55.00 (includes set-up)
2 (E160) - 10" Elite Speakers plus stands, 2 Shure 58 microphones plus boom stands, 8-channel Yorkville Power Amplifier, 1-10" Yorkville floor monitor including all cables.
GOOD EATS NEARBYCelenas Bakery
is yummer's
www.celenasbakery.com
Woodbine & Danforth (block west of woodbine on Danforth)
Lazy Daisy
, although a bit further at Coxwell & Gerrard, is a wonderful place to grab fresh baked goods and sandwiches (non-gluten too!)
www.lazydaisyscafe.ca
The Bandit Coffee Group
1925 Gerrard St.E.
416-996-8555
Good Time Coffee
1946 Gerrard St.E.
416-690-2531
Zante Bistro
1950 Gerrard Street E
(416) 691-3663
Melanie's Bistro
870 Danforth Ave
(416) 422-1870
Relish Bar & Grill
2152 Danforth Ave, Toronto
(416) 425-4664
Basil Thai Kitchen
2326 Danforth Ave
(416) 422-0617
Hirut (Ethiopian cuisine)
2050 Danforth Ave
(416) 551-7560
Pizzeria Libretto
550 Danforth Ave
(416) 466-0400
Chino Locos Original Burritos
4 Greenwood Ave (west of Woodbine, south of Danforth)
647-345-5626
Thai Room
2063 Danforth Avenue
(416) 693-8424
The Budapest Restaurant
1959 Gerrard St. East
647-347-5047
---