Dear Friends,
People who have been coming to our studio for years have often asked where our delicious water comes from. Our wonderful filtration system delivers a quality of water that taste as though it ushered from a pristine mountain spring. The delicious taste is due to the filter's natural volcanic minerals which provides the energy, structure and trace minerals found in many mountain spring water sources.
Over the years, we have referred people to Water for Wellness to obtain this special filter. After making significant improvements to the volcanic mineral filter product, Water for Wellness is now Energy Stone Health. This new name represents the proprietary Japanese volcanic mineral around which their products are based.
We are pleased to announce that you may now order the Energy Stone Health drinking and shower filters through our web link. Check out the website, the research section, filter systems and hot spring/far-infrared bath products. Next best thing, visit us at Red Canoe Studio to experience the water first hand.Cheers, Kim and Jerry
A Miniature Mountain Spring in Your Home
The Energy Stone Water Filter
represents an industry-changing class of water filters whose development began in Japan during the early 1980's. For over twenty five years, the people of Japan have benefited from filter systems that deliver water containing the delicate trace minerals found in naturally occurring mountain spring and deep well waters. The foundation of these filters is the same as that which provides the highly desired qualities found in the best remote mountain spring sources on the planet -- volcanic minerals.
Visit it the site.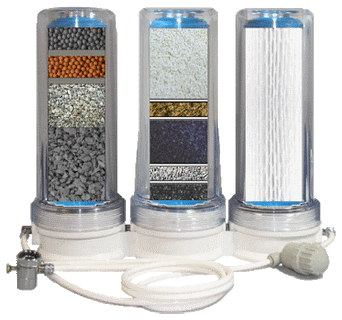 Energy Stone Water Filter delivers truly health, virus-level clean, healthier and exquisite tasting water. Rare, exotic volcanic minerals and bio energy ceramics combine to produce a vibrant, 'living' water that is imparted with the delicate structural, important energetic, and vital trace mineral qualities found in the most acclaimed mountain spring and deep well waters on the planet.

Filter Purification Hightlights
- Blocks 99.9999% bacteria and 99.997% of viruses.
- Reduces fluoride, chlorine, chloramines, THMs, VOCs.
pesticides, herbicides, radon, solvents, MTBE and more
- Removes endotoxins, drugs, endocrine disruptors,.
and environmental hormones from filtered water
- Eliminates heavy metals, radio-nuclides, ammonia.
- Components and media are FDA and/or NSF approved.

---